Impactful UNCCD COP14 event on agroecology and organic agriculture in the Himalayas and new study launched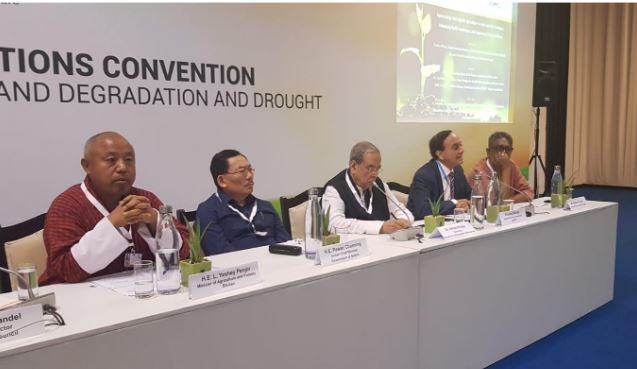 Twenty-five years ago, the international community acknowledged the central role our land plays, by creating the United Nations Convention to Combat Desertification (UNCCD). Since then, 196 countries and the European Union have signed up to coordinated actions for sustainable land management. Still, much more needs to be done – and sooner rather than later. The current pressures on land are enormous and expected to continue growing. Nearly 170 countries continue to be affected by desertification, land degradation or drought. The recurrent and growing threats of forest fires, heatwaves, mass migrations, flash floods, sea-level rise and food and water insecurity are more evident. 2030 will be a significant milestone for achieving land degradation neutrality, as one of the Sustainable Development Goals. This will be a stepping stone towards a true land-based sustainable future. 
In this context and as a follow up of its Future Policy Awards 2017 (Desertification) and 2018 (Agroecology), the World Future Council has organized the event "Agroecology and organic agriculture in India and the Himalayas: Enhancing fertile landscapes and improving living conditions" on Friday, 6th September 2019, at the fourteenth session of the Conference of the Parties to the UNCCD (UNCCD COP14). Co-hosted with the UNCCD and IFOAM – Organics International, our event contributed to the UNCCD COP14 focus, presenting sustainable and cost-effective policy solutions that avoid and halt further loss of productive land and incentivize the recovery of degrading areas. 
In particular, we showcased the progress of the agroecological and organic movement and highlighted foremost Sikkim, the first 100% organic state in the world, which received the UN backed Future Policy Gold Award in 2018, and the 100% organic farming goals of Bhutan. Also known as "Oscar for Best Policies", the Future Policy Award celebrated in 2018 policies that scale up agroecology. The 2018 Gold Award was awarded to the 100% organic state Sikkim, in the North of India, which beat 51 nominated policies from 25 countries. More than 66,000 farming families have benefitted from this transition. Furthermore, Sikkim's approach reached beyond organic production and has proven truly transformational for the state and its citizens. Embedded in its design are socioeconomic aspects such as consumption and market expansion, cultural aspects as well as health, education, rural development and sustainable tourism. This state has led India's scaling up of agroecology, by improving livelihoods, combating desertification and land degradation.
The event was prominently opened by UNCCD Deputy Executive Secretary Mr. Pradeep Monga and WFC Executive Director Ms. Alexandra Wandel, and was moderated by Dr. Ashok Khosla, former President of the International Union for Conservation of Nature (IUCN). Among the high-level speakers were Bhutan's Agriculture and Forestry Minister H.E. Hon'ble Lyonpo Yeshey Penjor, former Chief Minister of Sikkim (India) H.E. Pawan Chamling and IFOAM – Organics International's World Board member Mr. Bablu Ganguly. 
During the session, the World Future Council and IFOAM – Organics International also launched the study "The Mainstreaming of Organic Agriculture and Agroecology in the Himalaya Region. Policy Contexts in Bhutan, India and Nepal" that showcases existing political support towards organic farming and agroecology across the Himalaya Region, . The study was published with the kind support of the Schweisfurth Foundation.
More information about the Future Policy Award 2018 is available at: https://www.worldfuturecouncil.org/2018-agroecology 
You can access the publication "The Mainstreaming of Organic Agriculture and Agroecology in the Himalaya Region. Policy Contexts in Bhutan, India and Nepal" at: https://www.worldfuturecouncil.org/the-mainstreaming-of-organic-agriculture-and-agroecology/
MEDIA CONTACT
World Future Council
Alexandra Wandel, Executive Director
alexandra.wandel@worldfuturecouncil.org
Mobile: +49 172 748 39 53
About the World Future Council
The World Future Council (WFC) works to pass on a healthy planet and fair societies to our children and grandchildren. To achieve this, we focus on identifying and spreading effective, future-just policy solutions and promote their implementation worldwide. Jakob von Uexkull, the Founder of the Alternative Nobel Prize, launched the World Future Council in 2007. We are an independent, non-profit organization under German law and finance our activities from donations. For information visit www.worldfuturecouncil.org