Functioning ecosystems form the basis for life on earth and a sustainable way of using our land is key for sustainable development. We spread policy solutions that can end hunger and malnutrition, promote a sustainable use of resources and apply ecological principles.  Thorough research of these policies underpins our advocacy work. We advise policy-makers at all levels and encourage and facilitate south – south cooperation concerning food security and organic agriculture.
Our aim is to build capacity among government officials and institutions for the governance for food and nutrition security.
BE PART OF THE SOLUTION!
Our aim is to pass on a healthy planet and just societies to our children and grandchildren.
Make Food, Land & Livelihoods possible with your donation!
Promoting
Regenerative Agriculture
Food security, biodiversity and climate resilience are intrinsically intertwined. Even though small scale farmers in the Global South produce the biggest share of food for the world's population, they suffer disproportionally much from hunger and poverty. In addition, they are generally the most affected by the negative effects of global warming, without big prospects for public help as support for rural areas is often not a political priority. In the face of the depletion of natural resources such as clean water and fertile soils, a growing population and the challenges connected to climate change, we have to quickly transform our food and agricultural systems in order to protect and regenerate our natural resources, reduce poverty and become resilient against weather extremes.
This is why the World Future Council, in partnership with the Food and Agriculture Organization of the United Nations (FAO) and IFOAM – Organics International, will highlight with the 2018 Future Policy Award policies that scale up agroecology.
Furthermore, we have joined forces with the grow platform GmbH to recognise Outstanding Practices in Agroecology 2018. Since June 5th, World Environment Day, until 20th July 2018, experts were invited to nominate exemplary agro-ecological approaches that empower small-scale food producers, contribute to transform our current food systems and make them sustainable.
We promote agroecology, which applies ecological principles and takes into account the social aspects.
Our research focuses on policies and practices that contribute to transforming our food and agricultural systems.
With agroecology we promote three goals at the same time: a sustainable use of natural resources, poverty reduction and climate resilience.
Expert Voices on Sustainable Agriculture
Only Organic Agriculture can feed the growing world population: it manages water and resources sustainably, produces healthy food for the people, and helps fight climate change, says Helmy Abouleish, CEO of Sekem Group, a renowned social business that received the Right Livelihood Award, the Alternative Nobel Prize.
For restoring land, good policies are crucial! Wanjira Maathai explains why this is particularly true for Africa.

Wanjira Mathai, Councillor of the World Future Council, is the Chair of the Wangari Maathai Foundation (WMF) whose mission is to advance the legacy of Wangari Maathai, 2004 Nobel Peace Laureate, and 1984 Alternative Nobel Prize (Right Livelihood Award) Laureate.
Rangelands have a huge potential for carbon sequestration. There is an easy way to change the way we currently manage rangelands and pastures.
The best part: not only nature, but also the pastoralists would benefit from it.

Dr Hans Rudolf Herren is a Swiss agricultural expert who received the Alternative Nobel Prize 2013, the 'Right Livelihood Award' on an innovative idea that prevented a hunger crisis.
Desertification & Land degradation
Don't let
Our Future Dry Out!
Every year, the World Future Council awards the best future-just and sustainable policies with the Future Policies – also known as the "Oscar for best policies". It celebrates policies that create better living conditions for current and future generations.
Each year, we identify one topic on which policy progress is particularly urgent. The 2017 Future Policy Award was dedicated to policies that effectively address land and soil degradation, and the related risks to food security and livelihoods, and help secure a sustainable and just future for people living in the world's drylands. But why is desertification one of the greatest challenges of humankind?
"Drylands cover close to 40% of the Earth's land surface. Hundreds of millions of people are directly threatened by land degradation and climate change is only going to intensify the problem. So far, this underestimated environmental disaster has received far too little attention. The Future Policy Award 2017 is turning the spotlight on the looming environmental challenge and effective responses. The seven Future Policy Awardees are all from affected countries, and demonstrate great environmental and political determination."
says Monique Barbut, Under-Secretary-General of the United Nations and Executive Secretary of the United Nations Convention to Combat Desertification (UNCCD).
Right to
Healthy and Sufficient Food
Our Food Security programme focuses on policy solutions that secure the right to healthy, safe and sufficient food. We work to enhance South-South cooperation in this area. We connect policy-makers with international experts, and advise them on innovative, pioneering initiatives from different parts of the world that have proven successful in fighting hunger and malnutrition.
One of our main focuses is spreading the exemplary model of the Brazilian city Belo Horizonte (Winner of the Future Policy Award 2009) to cities of southern Africa. As a result of our study tours and workshops for African mayors and food security experts, we started in 2013 a cooperation with government representatives of Namibia. Currently elements of the Brazilian model are being transferred to the country's capital, with already some impressive first impacts. Thanks to our support, Belo Horizonte and Windhoek have also signed an international cooperation agreement in 2015. In March 2017 we published with the City of Windhoek a study on best practices, in order to help spread urban agriculture.
"Nothing is more degrading than hunger, especially when man made. "
Ban Ki-moon, former United Nations Secretary General 
Initiatives
&

Information
New handbook on urban agriculture in Windhoek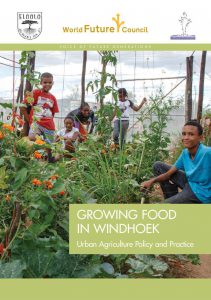 In March 2017 the World Future Council published together with the City of Windhoek and the Eloolo Permaculture Initiative a study on best practices on urban agriculture in Windhoek. Windhoek is a growing city, reflecting a global trend: by 2050, the world's urban population is expected to nearly double, which poses massive challenges for all cities in regards to housing, infrastructure, health, education, jobs, natural resources and food. At the same time, Windhoek has a very testing climate and there is, of course, the water issue. Windhoek's vision is that all of its citizens enjoy food and nutrition security. This means that enough and healthy food is available in the city and that all of Windhoek's citizens can afford to feed themselves adequately. By producing food in and around the city, we can connect – the production with the market, experiments, ideas and solutions, and people of all ages and all walks of life. When we grow food in Windhoek, we need to do it right. With this handbook, we want to help make those connections and on that basis further ideas and projects will develop.
Workshop on Urban Agriculture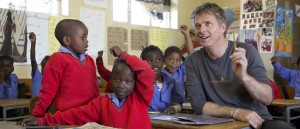 Our implementation workshop in December 2015 brought together policymakers, agricultural experts, civil society actors, urban and (peri-) urban farmers and private sector representatives to engage in an open and constructive dialogue on the future of agriculture in and around urban areas in Namibia, one of the driest countries in southern Africa. The focus was on sharing experiences about agriculture in arid regions, re-use of wastewater for irrigation and innovative technologies that allow for (peri-)urban agriculture in face of water scarcity. A study commissioned by the World Future Council, which analyzed the institutional and political context in this area, was presented and discussed, in order to lay the fundaments for the process to create a political framework hereon.
Promoting international agreements
Our work to support South-South collaboration between Belo Horizonte and Windhoek resulted in the adoption of an international cooperation agreement in February 2015, which stipulated that both cities will work together on development issues, beyond food security. The objective was to create a formal basis for the exchange of approved methods and to promote an institutional cooperation on development-related topics. The agreed areas of collaboration comprise food security, culture, development, and education and training.
In October 2015, Windhoek signed with 110 other cities the "Milan Urban Food Policy Pact". The agreement underlined the increasing critical role that cities play in securing healthy and safe food for their citizens. The "Pact" comprises concrete recommendations on which measures mayors should implement, in order to live up to the obligations of the agreement. The exchange on food security between Belo Horizonte and Windhoek initiated by the World Future Council is therein presented as good practice example for South-South cooperation.
Windhoek Declaration
Following the study tour (2013) to Belo Horizonte, an implementation workshop was organized by the World Future Council, the Food and Agriculture Organization of the United Nations and the City of Windhoek in July 2014 in Windhoek, involving local and national authorities, experts from Belo Horizonte and international food security experts. The objective was to share insights into the Brazilian model with all mayors from Namibia, to enable a multi-stakeholder dialogue on food and nutrition security governance and to strengthen understanding of successful interventions among the participants. The adaptation and the implementation of the Belo Horizonte system was discussed and local solution were being designed. At the event the Windhoek Declaration on the right to food was adopted by 51 Namibian mayors and policymakers, under the eyes of the Vice Prime Minister. The document obligates signatories to implement measure to improve the situation of their citizens, especially it promises a review of national policy and legal frameworks, the development of solutions for financing efforts on local level, the establishment of an inter-municipal technical task force and of networks for multi-level stakeholder dialogue, partnerships and capacity building, and contains the commitment to harmonize current efforts to tackling food and nutrition security.
First concrete measures will be the establishment of the first Namibian food bank and the promotion of urban and peri-urban agriculture in Windhoek."We will be showing you the greatest political will this country has ever seen," said Honourable Marco Hausiku, Deputy Prime Minister and thanked the World Future Council for facilitating this exchange.
All recommendations you can find in the workshop report.
Study Tours to Belo Horizonte for African Mayors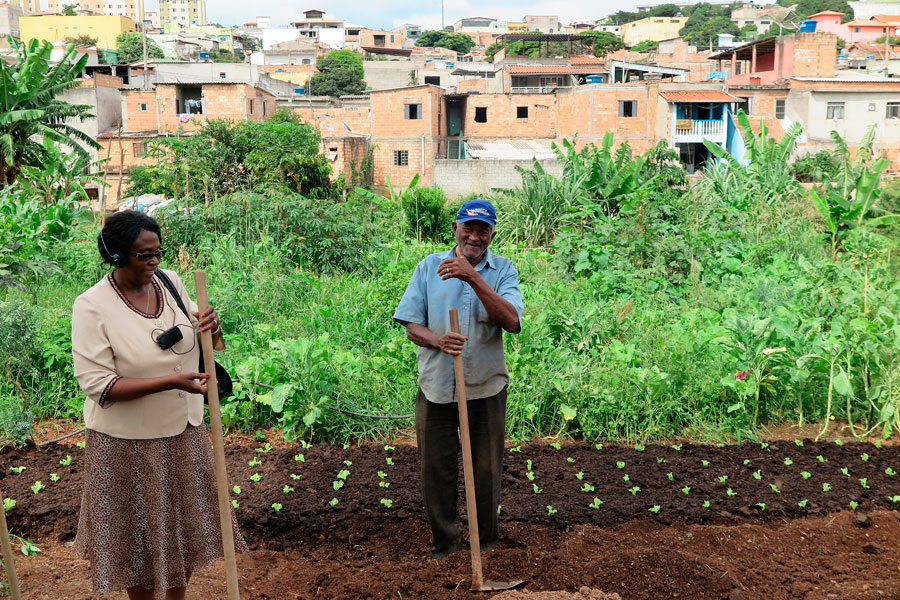 It is one of the goals of the World Future Council to bring African delegations to Belo Horizonte so that they can learn about the successful policy framework for food and nutrition security of the Brazilian city on site – because nothing is as convincing as the own experience.
The participants of the first Study Tour of August 2013, among them the Deputy Mayor of Windhoek (Namibia), Mayor of Kitwe (Zambia), Mayor of Kinondoni (District of Dar es Salaam, Tanzania), and the Mayor of  Bangangte (Cameroon), visited key programmes such as subsidized restaurants, the food bank, community gardens, nutrition education programs, school kitchens, etc. and met with Brazilian government officials to discuss governance for food security.
A second Study Tour in February 2015 focused on further supporting the Namibian cities of Windhoek and Walvis Bay in adapting and implementing solutions from Belo Horizonte. An interdisciplinary team of different departments of the City of Windhoek, as well as the Mayor of Walvis Bay, deepened their understanding of the necessary technical and legal requirements of the food and nutrition security framework.
Future Policy Award 2009
In 2009, our first Future Policy Award honoured one of the most fundamental human rights – the right to food. The comprehensive policy framework for food and nutrition security of the Brazilian city Belo Horizonte was declared the inspiring winner. The system is based on the legal right to food for all citizens and incorporates a set of about 20 interconnected programmes that ensure compliance. It has proven effective in fighting hunger and malnutrition and improving the livelihoods of citizens by supporting the local economy.  It has also integrated family farmers into a local, just food system and strengthened rural – urban linkages. Due to its effectiveness, it has strongly influenced Brazil's national 'Zero-Hunger' Strategy and has been recognized by UNESCO and the Food and Agriculture Organization of the UN as a model for cities in the global south. A feasibility study regarding a transfer of this system approved its model character. Click here for the study.
Biodiversity, Oceans & Forests
In previous years, we have also worked on other topics in this working area. Find out more about best policies to save our oceans, sustain healthy forests and enhance biodiversity. We awarded them with our Future Policy Award.