The WFC Commission on Climate and Energy advises governments at all levels and facilitates an international policy dialogue on renewable energy and regenerative urban development.
The aim is to build capacity and cross-sectorial networks among policy-makers to improve legislative frameworks for climate protection, regenerative urbanisation and a future-just energy system based on 100% Renewable Energy.
BE PART OF THE SOLUTION!
Our aim is to pass on a healthy planet and just societies to our children and grandchildren.
Make Climate, Energy & Cities possible with your donation!
Road to
100% Renewable Energy
The WFC Climate Energy Commission specifically addresses the question of how legislators can promote a rapid shift to a society which is powered by 100% renewable energy. In-depth research underpins our advocacy work.
We are identifying exemplary policies and legislations that have catalyzed the upscale of renewable energy and energy efficiency. Special attention is also given to the questions on financing renewable energy as well as exploring opportunities for electrifying the cooking sector in Global South countries.
We gather and engage national and regional legislators with leading experts on energy policy.
We address the question of how legislators can promote a rapid shift to a 100% renewable energy society.
In-depth research underpins our advocacy work.
100% RE Roadmap Development
 Tanzania and Bangladesh
In November 2016, at the UN COP22 in Marrakesh/Morocco, 48 countries committed to "strive to meet 100% domestic renewable energy production as rapidly as possible while working to end energy poverty, protect water and food security, taking into consideration national circumstances. These 48 countries are among the most vulnerable countries and are united as the Climate Vulnerable Forum (CVF) – Tanzania and Bangladesh are among them.
The goal of the project is to develop a coherent strategy on how to implement 100% Renewable Energy as part of the countries' broader development goals.
Through an inclusive and interactive approach engaging local stakeholders and key decision-makers in the energy transformation process this project inspires stakeholders and builds hands-on knowledge on 100%RE, strengthen synergies, networks and platforms for multi-stakeholder dialogues at national and international levels and identifies necessary legislation and policy reforms.
DEEDS
Dialogue on European Decarbonisation Strategies
The DialoguE on European Decarbonisation Strategies (DEEDS) supports the European Decarbonisation Pathway Initiative (EDPI) and its High-level Panel through creating state-of-the art knowledge on decarbonisation pathways, facilitating a dialogue with and creating a network of leading scientists, businesses, policy-makers and NGOs. The project aims to create a knowledge base on relevant research areas: energy, cities, industry, finance, mobility, digitalisation and social innovation and agriculture and land use.
DEEDS has started in October 2017 and will end in September 2020. It is supported by the EU Horizon 2020 framework, implemented by a consortium of 15 leading European research institutions, associations and NGOs.
Global Renewables Congress
Legislators for Renewables
The Global Renewables Congress (GRC) is a cross-country, cross-party platform for ongoing dialogue between and with legislators on issues related to the rapid and large-scale deployment of renewable energy solutions. Current and former legislators from national and regional parliaments can become members of the GRC.
The platform recognises the varying technical, economic and social conditions in different parts of the world that influence what renewable energy policies and solutions are most appropriate and effective and offers expertise and advice in navigating these determinant factors. It places at heart of RE action or policies an emphasis on the benefits to communities and local value creation.
In five days in September 2016, 13 policy-makers and -shapers from 8 countries travelled 1,500 kilometres from Denmark via Germany and the Netherlands to Belgium.
Their mission? Exploring what regional cooperation means in practice andhow it can boost renewable energy in Europe.
This report presents their key insights, presents the learnings from the visited projects and summarises the main policy recommendations for decisionmakers on local, national and European level.
100% Renewable Energy
Global 100% RE Campaign
The WFC is a founding member of the Global 100% RE Campaign which was launched in 2013 as the result of a parliamentary hearing we hosted in the Nordic Folkecenter in Denmark in October 2012. The Global 100% RE campaign is the first global initiative that advocates 100% renewable energy. This unique campaign builds on projects that are already taking place on national, regional and local levels and steers the global discourse on renewable energy towards 100% RE as the new normal. The campaign showcases that there is already a global movement among local governments striving towards 100% RE and provides answers to the question "what does 100% RE mean for local governments?" Find out more on the campaign website.
African Renewable Energy Alliance
How can we
mobilise the financial means to meet the 1.5°C limit
Our current economic system is unsustainable, unfair, unstable and no longer improves our quality of life. In changing our economic system towards sustainability and common wealth, we can enable climate change mitigation, empower millions of people and lead the way towards a fairer future.
In order to even achieve the previous 2°C target, an estimated $1000 billion is needed to be invested annually in the development of renewable energy solutions. To meet the 1.5°C limit in line with the Paris Agreement the necessary investments in renewable energies would be significant higher. We outline how the large investment sums could be financed between a co-operation of developing countries, Multilateral Development Banks, the private sector and Central Banks.
Implementing a "climate bailout"
How to convert fossil fuel stranded assets into renewable energy investments: To comply with the 1.5°C limit agreed in Paris, a significant fraction of fossil resources cannot be used for energy production. The loss of value of fossil fuels though will cause instability on the financial markets. […]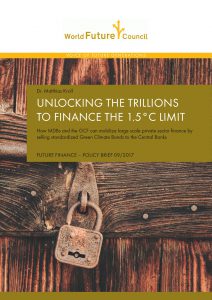 Unlocking the trillions to finance the 1.5°C limit
In order to meet the +1.5 ° C limit specified in the Paris Agreement, a shift of the global energy supply to 100% renewable energy is necessary at the latest by 2050. Such a process requires annual investments in the order of $1.5 to $2 trillion. […]
'Degrowth' alone is not enough
This paper aims to move beyond the current purely GDP-oriented debate on growth by highlighting the differences between real finiteness and the apparent finiteness of GDP. Growth and finiteness have to be reconciled if we want peace and sufficiency for possibly over 10 billion people in the future. […]
The meaning of the endogeneity of money for the different kinds of QE and large scale financing of the SDGs
Financing large scale climate investments and other SDG duties needs new tools. One tool could be a new kind of monetary finance by the central banks. The future finance department of the WFC developed a theoretical background paper which demonstrated how the new tool works and why it precisely fits with recent findings of economic science. […]
Germany shutting down the last of its nuclear power plants by 2022 could force the country to use more coal power [...] According to the World Future Council, power production from coal could rise 16 percent to deliver the baseload power previously provided by nuclear plants.
How to achieve
Regenerative Cities
A new model of urbanisation powered by Renewable Energy and defined by a restorative and mutually beneficial relationship between cities and their hinterland is urgently needed. We therefore identify transferrable success factors that enable cities to go beyond sustainability and become regenerative. A regenerative city enhances rather than undermines the ecosystems on which it depends.
While modern cities function in a linear manner in which resources are used and wasted, regenerative cities are based on circular resource flows and generate the resources it consumes. In order to realize this vision, we analyse case studies from across the globe and set regional focuses for the advocacy work. For example, the WFC office in Beijing specifically identifies policy solutions for transforming Chinese cities into Regenerative Cities.
We focus on how cities can mimic nature's circular metabolism.
We identify exemplary policies to implement the vision of a regenerative city.
We promote dialogue and exchange of transferable success factors across cities worldwide

.
Regnerative Urban Development
The innovative Sponge City
Our vision of regenerative cities is not only to provide urban residents with green livable cities, but also to re-connect them with nature by re-building the regenerative relationship between humans and nature. Therefore, we identified three fundamental regenerations to focus on: the Regeneration of Resources and Energy, the Regeneration of Urban Ecosystems, and the Regeneration of Urban Spaces.
In China, the WFC's regenerative vision of using nature-based solutions to improve urban climate resilience was promoted into China's "Sponge City" campaign through a series of advocacy activities. With the "Sponge City" we developed an innovative concept to improve an eco-friendly water-management solution for cities facing water related challenges.
Future of Cities Forum
Future of Cities Forum
We host an annual international "Future of Cities Forum" that brings together mayors, city councillors, urban planners, researchers, practitioners and representatives of civil society and the private sector to discuss key challenges and solutions for regenerative cities and its hinterland. The aim is to build up a global multi-stakeholder network to operationalize the concept of a regenerative city and explore opportunities for implementation. Since 2011, the forum has taken place in Munich, Kampala, Hamburg, Dubai and Delhi. Find out more about our annual Future of Cities Forum here. 
OUR POLICY RECOMMENDATIONS CAN BE FOUND ON
Climate, Energy
&

Cities Councillors