Children share visions of a just future: book launch in London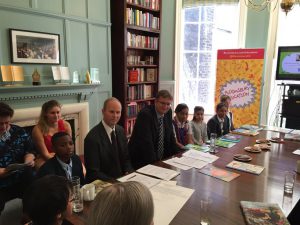 From 07-08 July 2016, UN Sustainable Development Goal child ambassadors, goodwill ambassadors and child authors met in London for the launch of seven books that comprise the Voices of Future Generations Children's book series. The initiative enables children to express their opinions on global issues, allowing them to become involved in shaping their future. At the event, the seven authors explained how each of their stories relates to the UN Convention on the Rights of the Child and the Sustainable Development Goals (SDGs). Jakob von Uexkull, founder of the WFC, joined the event and welcomed the audience with an inspiring speech.
During the first day of the event, expert speakers from leading international foundations and UN agencies such as UNESCO, UNICEF and UNEP engaged with the authors, UN SDG child ambassadors and children from local schools, listening to their ideas on addressing the Post-2015 SDG agenda. The event was jointly hosted by the Voices of Future Generations initiative and the Mary Robinson Foundation at the Houses of Parliament in Westminster. The children offered insightful views on issues such as gender equality, climate change, human rights and access to education and emphasised the need for children to know about their rights, as set out in the UN Convention on the Rights of the Child.
A 2016 Future Generations Inspiration Award was presented to keynote speaker Professor Kirsten Sandberg, Chair of the United Nations Committee on the Rights of the Child, in recognition of her inspirational work on behalf of children. Several children from local schools were awarded gold and silver medals for their contributions to education, human rights and the environment.  On day two of the event at the Landmark Hotel, another Future Generations Inspiration Award was presented to Mary Robinson, former President of Ireland and Founder and President of the Mary Robinson Foundation – Climate Justice, for being a global mentor to children around the world on whose behalf she campaigns for a better future.
During their time in London, the authors signed an International Partnership between the Voices of Future Generations Children's initiative and Bloomsbury Publishing Plc, a prize-winning leading independent publisher.
Books in the series
The Epic Eco-Inventions; The Great Green Vine Invention,  Jona David. Both books address the need for climate action.
The Voice of an Island, Lupe Va'ai.  Based in Samoa, the book explains how people can work to save their environment from the impacts of air pollution, littering and mangrove destruction.
The Visible Girls, Tyronah Sioni.  The book addresses gender equality.
The Forward and Backward City, Diwa Boateng. Tells a tale of equality between people and the impacts of corruption.
The Species-Saving Time Team, Lautaro Real. The book investigates climate action, life below water and on land.
The Sisters' Mind Connection, Allison Hazel Lievano-Gomez. The book explores ways to reduce inequalities.
The Fireflies After The Typhoon, Anna Kuo. Addresses life on land and reducing inequalities.
https://www.worldfuturecouncil.org/wp-content/uploads/2016/08/Landmark_london_karl_marcel_jakob_melinda_and_others.jpg
797
1080
World Future Council
https://www.worldfuturecouncil.org/wp-content/uploads/2020/10/wfc-logo-rgb-strapline-EN-1030x357.png
World Future Council
2016-08-01 16:06:11
2016-08-22 12:32:02
Children share visions of a just future: book launch in London